SL500
Expert Solar PV Kit with Power Measurement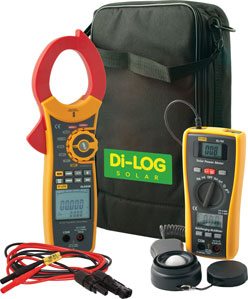 The SL500 is the Expert Solar PV test kit designed to assist in the commercial installation of Solar PV systems. The kit includes the SL102 - Irradiance Meter and the DL6508 – 1500A AC/DC Current Clamp with 1000V DC VOC measurement all packaged in a soft carry case.
The SL102, with its Multimeter like design, enables you to perform safe and accurate measurements, even when working at heights. The SL102 also features a dual display which allows you to simultaneously record the Irradiance level and Voltage output (VOC) with the panel connected in situ via SLLSC4 – 4mm MC4 lead set provided.
SL102 - Features:
Solar Irradiance measurement to 1999 W/m² or 634BTU/ft²*h
Dual Display for simultaneous Irradiance and Voltage (VOC) measurement for in situ testing
Min/Max recording function
Auto Hold
AC/DC Voltage to 600V
Audible Continuity and Diode test
AC/DC current to 200mA (Not to be used for PSC)
SLLSC4 – 4mm MC4 Red/Black lead set for VOC measurement
Carry Case
DL6508 - Features: "Replacement unit coming soon"
Power Measurement to 900.0kW
1500A AC/DC Current
1000V DC/750V AC
Min/Max & Hold
Inrush Current
Lead Set
40000 Count Display
Auto Power Off
Soft Carry Case
SL500 - Features:
Supplies with Type 4 T-Connectors for power measurement
Trade Price
£349.90
Calibration
£POA
SL102 - Specification
Measurement
Range
Basic Accuracy
Irradiance
1999W/m²
Typically within ± 5% of rdg or ± 10W/m²
634BTU/ft²*h)
Typically within ± 5% of rdg or ± 3BTU/ft²*h
AC Voltage
0.001V - 600V
1.5% ± 5 dgts
DC Voltage
0.1mV - 600V
1.0% ± 3 dgts
AC Current
0.1uA - 200mA
1.8% ± 8 dgts
DC Current
0.1uA
1.5% ± 3 dgts
Resistance
0.1Ω - 20MΩ
1.2% ± 3 dgts
Continuity
<150Ω
Diode Test
1mA max typical/Open Max 3V DC
N/A
Power supply
1 x 1.5V AAA & 1 x 9 V battery
Dimensions
162(H) x 74.5(W) x 44(D) mm
Weight
About 308g
DL6508 - Specification
Measurement
Range
Basic Accuracy
DC Current

10mA - 1500.0A

Typical 2.0% ± 30 dgts

AC Current TRMS

10mA - 1500.0A

Typical 2.5% ± 30 dgts

DC Voltage
0.01mV - 1000V
0.5% ± 4 dgts
AC Voltage
0.01mV - 750V
1.0% ± 30 dgts
AC KW/kVA (0-600V, 0-1500A TRMS)
900.0kW
3.0% ± 10 dgts
DC KW/kVA (0-600V, 0-1500A)
900.0kW
2.8% ± 10 dgts
Capacitance
0.01nF - 40.000mF
5.0% ± 10 dgts
Frequency
0.001Hz - 40.000MHz
0.3% ± 2 dgts
Resistance
0.01Ω - 40.000MΩ
Typical 2.0% ± 10 dgts
Duty Cycle
10.0 to 95.0%
1.0% ± 2 dgts
Temperature (type -k)

-100.0 to 1000.0°C

-148.0 to 1832.0°F

1.0% ± 2.5 °C

1.0% ± 4.5 °F

Continuity
<50Ω
Diode Test
0.3mA max typical/Open Max 2.8V DC
N/A
Power supply
1 x 9 V battery (Supplied)
Dimensions
294(H) x 105(W) x 47(D) mm
Weight
536g