388A913
PV150 Solar Installation Test Kit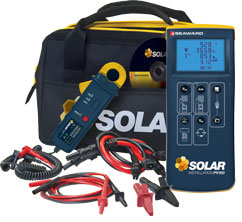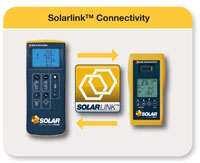 The world's first all-inclusive solar PV specific installation electrical safety testing kit, now with Solarlink™ and USB connectivity.
The PV150 Solar Installation Test Kit includes all of the tools needed to determine the electrical safety and performance of photovoltaic installations in line with MCS and BS EN 62446 requirements.
The kit is based around the Solar Installation PV150, which combines all test functions required to meet MCS and BS EN 62446 into one safe, easy-to-use, hand-held device. The addition of USB and wireless Solarlink™ connectivity makes the PV150 the most versatile, safe and technically advanced solar PV tester on the market.
Transforming the way that PV systems are tested, the PV150 replaces the three separate instruments which are ordinarily used for commissioning tests; combining earth continuity, insulation resistance, open circuit voltage, short circuit current, operating current (using supplied AC/DC current) and DC operating power test functions into one handheld unit. The kit includes MC4 and Sunclix test adaptors which enable quick, safe and easy connection of the tester to the PV modules, strings or array.
As well as a comprehensive range of electrical test functions, the PV150 has memory to store up to 200 complete test records with USB connectivity to enable these to be quickly and easily downloaded to a PC. When coupled with Seaward's SolarCert Elements software program (supplied separately) professional test certificates and reports can be created.
The PV150 tester features new Solarlink™ connectivity which further improves the versatility of the instrument. Using Seaward Solarlink™, the PV150 can wirelessly capture and record realtime irradiance, ambient temperature and PV module temperature measurements from the Solar Survey 200R (supplied separately). This means that you can take all measurements, as required by MCS and BS EN 62446 standards, simultaneously.
Features;
Combines all commissioning tests required by MCS and BS EN 62446
Memory for up to 200 records USB download to PC
Featuring new Seaward Solarlink™
Single key testing and measurement
Safe test connection with energised PV arrays
Earth continuity measurement
Earth test lead null (up to 10Ω) for long test-lead
PV string open circuit voltage measurement up to 1000V DC
Open circuit voltage polarity indication
PV string short circuit current measurement up to 15A DC
PV array insulation test at 250/500/1000V
Rugged and robust
Trade Price
£985.00
Calibration
From £94.00