DLPK2
CombiVolt™ 2 Safe Isolation Kit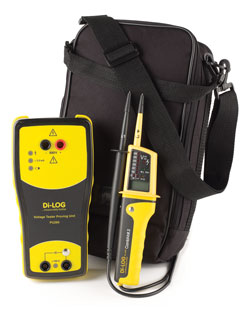 Voltage & Continuity Testers with Phase Rotation Test. The three-in-one testers with a rugged, ergonomically formed housing for perfect handling.
CombiVolt™ 2 Kit Features:
LCD Resolution 1 V ±3% + 8 Digits
Carry Case
Continuity testing with optical and acoustic indication
Automatic switching between voltage and continuity
Phase rotation test system
Single pole phase indication
Fully compliant with GS38
Fully operational voltage indication even when batteries are discharged CombiVolt 2 with digital indication of voltage.
Trade Price
£162.90
Calibration
£45.00
CombiVolt™ 2 Voltage/Continuity Tester - Specification
Voltage display
12 – 690 V AC/DC
LED resolution
12, 24 , 50, 120, 230, 400, 690
LCD resolution
1 V ±3 % + 8 digits
Voltage detection
Automatic
Acoustic signal
AC voltage – DC voltage
Polarity detection
Full range
Response time
LED < 0.1s, LCD <2s
Frequency range
0 – 400 Hz
Peak current
Is < 0.3 A / Is (after 5s) < 3.5 mA
Operation time
30s
Recovery time
10 min
Auto power on
< 12 V AC/DC
Single pole voltage indication
Voltage range
100 – 690 V AC
Frequency range
50 – 400 Hz
Continuity
Measuring range
0 – 400 KΩ
Phase rotation test
Voltage range
100 – 690 V
Frequency
45 – 65 Hz
Over voltage protection
690 V AC/DC g
Power supply
2 x 1.5 V LR03 batteries
Dimensions
255 x 70 x 28 mm
Weight
200 g
PU260 - Specification
| | |
| --- | --- |
| Voltage range | 50 – 500 V AC/DC |
| Power supply | 9 V 6LF22 |
| Dimensions | 150 x 80 x 50 mm |
| Weight | 310 g |